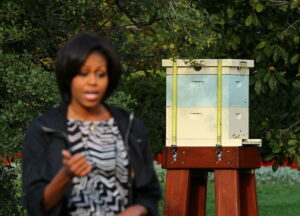 The #SavetheBees movement is something that everyone agrees on, especially when it comes to our political leaders. Pollinators give us food, and almost everybody cares about providing nutrition for the next generation. Let me help you out with a reminder of what humans agree on.
The politics of bees consistently shows support from both Republicans and Democrats. When beekeeping was legalized in Los Angeles in 2015, the City Council vote was bi-partisan and unanimous, 15-0 in favor. (More on that here from my Op-Ed then in the LA Times.)
Just as the Obamas added bees to the White House grounds, and the Trumps kept them. The Pences added a beehive to the Naval Observatory residence of the Vice President. Today in the New York Times, an official with Ms. Harris's office said the bees would "absolutely" be staying.
If our nation's leaders can all come together to promote pollinators, then you can, too! What are you waiting for? Establish pollinator habitat at your home, work, school, and community, on both grounds and rooftops NOW. Think about how we'll leave this Earth for tomorrow. Be the change.