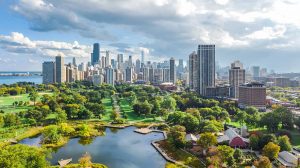 A new partnership between Tazo Tea + American Forests creates jobs for urban workers to plant trees, potentially lowering the temp of urban areas by 5-20 degrees. It's another low-cost, high-impact model for corporations to drive environmental impact at scale. Unilever here shows us how hiring The Davey Tree Expert Company to plant trees across five U.S. cities enables measurable advances on mitigating climate change, environmental justice, and fabulous PR in doing real good for that triple bottom lone I love – people, planet, and profits.
I hope they select trees that feed pollinators, to maximize their impact on our local food system. Honeylocust and linden in The Bronx, myrtle and magnolia in the Bay Area.
We'd be happy to share our honeyDNA plant lists with the teams working on this movement!
Find more about the pollinator trees in each city, from corporate client beehives with The Best Bees Company, here with National Geographic & here with TED Conferences.
Big kudos and attn to: Jad Daley, Pure Strategies, Inc., WE ACT for Environmental Justice, & Intersectional Environmentalist