Get excited for the 51st Annual Earth Day!

Live event
In a fitting reflection of our ever changing world, my team mixed it up this year, too. Our Earth Day main stage event was led by our beekeepers from across the country, instead of by me! I couldn't be more proud of what they accomplished. My heart beamed watching this live, and the recording is one that I'll cherish forever. What a community we've built!
In the words of my co-Founder at Best Bees, Cahill, we've been "bending capitalism toward environmental justice since 2010!" Our Earth Day event this year really personifies this, by sharing how many companies have supported over 70 beekeepers on our team with good jobs, doing the hard work to get more pollinators out there on otherwise empty rooftops and grounds nationwide.
Last year, I led a live virtual event with my colleagues at Harvard Business School, Beacon Capital Partners, and Cushman-Wakefield. This year, join my team at The Best Bees Company, for the live event, with recording available here: "Pollinator Power: Celebrate Earth Day With Bees".
In this webinar, we share why bees matter now more than ever, plus some simple steps, backed by data, that you can take to help save the bees.
Who's hosting
This year's Earth Day webinar will be different from our big event last year, in that I won't be the one presenting! While I'll be doing a private keynote event with Gap Inc. (thanks to my awesome team at Outspoken Agency) and joining the Business Curious podcast with GoDaddy, two incredible team members from Best Bees will be leading the public forum!
I come from a long line of teachers, on both sides of my family. Even my only sibling is a teacher, my sister Sasha. It fills me with pride to see my students and employees grow and even take the stage.
Paige Mulhern
Paige Mulhern is our Creative Director at Best Bees. They oversee all things marketing. Paige is an incredible illustrator and compassionate beekeeper, whose sense of style and design glosses everything you see come our of the Best Bees lab, from our media stories like this one with Martha Stewart Living to this one with VICE media and the rap star 2Chainz.
Robin David
Robin David is our lead beekeeper in Seattle, and soon to be the second-newest member of our sales team after Kira joins us in June. Robin is a navy veteran (thank you for your service!), a business student (graduating this spring!), and perhaps the most fun dog dad around (Jerry is famous on social media for his doggie beekeeper's suit!).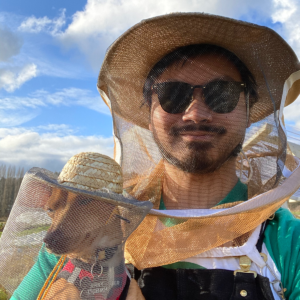 This Year's Call to Action – Enthusiasm!
One of my favorite mantras is that we're only on this planet for such a short period of time, so what will we do to make the world a better place because we were here? Earth Day is one of those moments when we can take action. And this year, I'm not just calling for action (go plant something! get beehives that provide data to scientific research!) but for your enthusiasm (save the bees, people!).
Bees teach us so much, including the value of communicating something important – with excitement! For example, when bees have a great resource to tell others in their colony about, such as flowers freshly in bloom to go forage upon, the bees dance with enthusiasm to catch the attention of other bees. That excitement recruits other bees to go confirm the message. If they agree, then they also dance to communicate where the resources are – and they do so with enthusiasm! This is how complex bee societies build a consensus, and drive change at the largest group level.
So here's what I want you to do for the 51st anniversary of Earth Day this week – help spread the message that pollinators are so important, they're dying, and it's up to us to encourage everyone to create pollinator habitat (flowers and beehives) on rooftops around the world. We call this movement going from "gray to green."
No more empty rooftops. We need to be the change we know will come in this world, and we need to do it right now. So get up, get out, go tell someone to get planting, and to tell others to do the same. The more enthusiastic you are in your messaging, the more attention your message will earn. And have some fun building community around environmental action while doing it!
History of Earth Day: Another Example of Bi-Partisanship
April 22 is Earth Day every year since 1970. It relates to an act of U.S. Congress in 1970 on the Clean Air Act. The vote was unanimous in the Senate, and flew through the House with a simple verbal chorus of "yeas". Yew. Na. Num. Mis. Yaas!
You'll recall my recent post about how bees are perhaps the ultimate bi-partisan political issue. The White House has had bees continuously since the Obamas, and the Naval Observatory (Vice President's residence) has had bees since the Pences.
Let's just soak that in for a minute…wow…Republicans and Democrats all voted for the Clean Air Act. Yes! Get inspired! Take this memory of environmental momentum, and savor it. It can be done, it has been done, so get up, dig deep for your enthusiasm, and go tell your community that you know how to unite us once again!
How to Remember and Honor
Learning this gave me chills. At MIT, I recently learned about this concept of 'frisson,' whereby body tingles travel rapidly up our spine and trigger memory formation. It's one of the body's physical mechanisms of learning.
The Clean Water Act and the Endangered Species Act passed concurrently with the Clean Air Act. That first Earth Day was a culmination of environmental progress, with 10% of the American population, including faith groups and community activists taking to the streets in rallies from coast-to-coast, packed with 20 million people! Their message was simple, "Get Inspired!" Teach ins provided education about the environment, bringing people into the cause of preserving our one and only planet that is getting severely damaged from human activity.
Anyone who eats and breathes, needs trees and bees. Get with it!
In honor of Earth Day, "…take to the streets, parks and auditoriums to demonstrate against the impacts of 150 years of industrial development which (has) left a growing legacy of serious human health impacts."  And do it with enthusiasm! Catch the attention of others. Help recruit them to spread the word, too. Just like the bees do.
See you at the webinar! Share widely, fam!