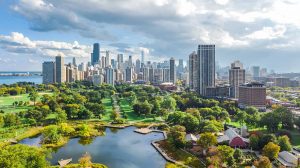 I'm experiencing a common theme across my daily conversations with leaders of large corporations these days, and it's clear that sustainability is the new mandate for companies navigating Covid successfully. It's really fascinating seeing the intersections between investor demands and customer behavior, converging at this green point, whether it's investor goals relating to environmental and social governance (#ESG) and corporate social responsibility (#CSR), or buying habits for living and working at green places as Forbes and Sustainable Brands frequently highlight. There's a new definition of sustainability emerging that addresses both environmental and economic concerns.
For example, long before Covid, green rooftops save money by reducing HVAC costs through insulating buildings, while also adding valuable amenities to draw and maintain tenants. No mow policies save money from landscaping while adding value through creating pollinator habitat with wildflowers, butterflies, and bees producing honey that builds community around sustainability. It feels awesome to be consulting with corporate leaders during this green revolution, like we're in the right place and the right time, together.
What are you doing in your sustainability role to advance your company through this Covid moment? How are you leveraging your role to really drive impact, for your company, for the environment, and for yourself? Check out another blog post of mine here for solutions.
Read my latest blog post about next steps to learn more, and to advance the conversation for your firm today.